Shoes are more than just functional accessories; they can make a powerful fashion statement and complete your outfit with style. Keeping up with the latest shoe trends allows you to stay fashionable and express your style.
Chunky Sneakers
Chunky sneakers have become a must-have shoe style in recent years. These retro-inspired kicks feature thick soles, exaggerated proportions, and bold color combinations. Chunky sneakers add an instant cool factor to any outfit, whether going for a casual streetwear look or dressing down a more formal ensemble. Pair them with jeans, dresses, or tailored suits to create a unique and contemporary look.
Strappy Sandals
Strappy sandals are a timeless shoe style that never goes out of fashion. This season, we're seeing a resurgence of strappy sandals with a modern twist. Look for styles with delicate, thin straps that wrap around the foot or feature intricate details like knotting or embellishments. Whether you opt for flat sandals or heeled versions, these stylish shoes will add a touch of elegance and sophistication to any summer or evening outfit.
Pointed-toe Mules
Pointed-toe mules are the epitome of effortless chic. These backless shoes feature a pointed toe and a low or high heel. They are versatile and can be dressed up or down, making them a staple in every fashionista's wardrobe. Pair them with cropped pants, skirts, or dresses for a polished and sophisticated look. Opt for neutral colors like black, nude, or white for a timeless appeal, or go for bold hues and patterns to make a statement.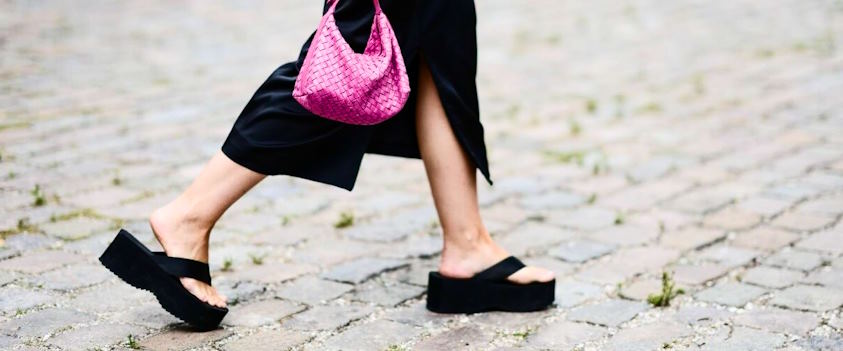 Platform Sandals
Platform sandals are returning, bringing a touch of '90s nostalgia to the fashion scene. These shoes feature a raised platform sole, providing height and adding a retro edge to your outfit. Platform sandals come in various styles, from sporty and casual to glamorous. They can be paired with wide-leg pants, maxi dresses, or skirts for a bold, fashion-forward look.
Square-toe Boots
Square-toe boots have become a favorite among fashion enthusiasts. These boots feature a square-shaped toe box, adding a modern and architectural element to your footwear collection. Square-toe boots come in different lengths, including ankle boots, knee-high boots, and even thigh-high boots. They can be worn with jeans, skirts, or dresses for an edgy and contemporary look.
Colorful Sneakers
If you want to add a pop of color to your outfits, look no further than colorful sneakers. Vibrant sneakers in bold shades like electric blue, neon green, or fiery red are trending in fashion. They are a fun and playful way to incorporate color into your look while keeping your footwear comfortable and stylish. Pair them with neutral-colored outfits to let your shoes steal the spotlight.